In addition to its rich history and culture, one of the features that make Cyprus unique is its nature. Many treasures are hidden in the unique flora of Cyprus, which embraces all kinds of beauty of the Mediterranean climate. Considering that we are talking about forests that host different migratory birds and a rich flora filled with endemic plants as well as subtropical; it is possible to see that all of them are as valuable as a treasure.
North Cyprus's special geographic location is as well sets up a fantastic base that makes its flora distinctive and no surprise that it impresses the nature lovers with its charm. More than 1900 flowering plants species are settled in North Cyprus. 46 of the orchid species out of all the known ones in the world, grow in1900 Cyprus. One of them is Ophrys kotschyi, also known as Cyprus Bee Orchid. North Cyprus part of the island is home to 19 plant species that can't be seen anywhere else on the island.
From orchids to centuries-old olives, from sage to tulips, from thyme to sea daffodils... In Cyprus with every step, you are welcomed by different smells and colors. Therefore Dionysus, the god of fertility and vineyards chooses Cyprus as his favorite island. Cyprus is the unique flower garden, where Aphrodite meets with her love Adonis... It is Antonius's wedding gift to Cleopatra… This island carries the sign of the wind bringing fertility with white waves that Aphrodite was born. Now, let the wind blow us away to start our endemic plant tour together.
The memory of Orchis: Orchids
Let's start our endemic plant tour with orchids... According to Confucius, orchids are "king of flowers"; fragile, elegant, and as much enduring...
From the ancient times, it's been the apple of medicine's eye, a strong symbol of love and the lucky flower of Cyprus.
Orchis, born from a nymph mother and a satyr father, is often matched with fertility for centuries. People always waited for the winter to be over and for Orchis to show its beautiful and colorful flower again... The myth of Orchis, about it being the symbol of fertility lives today and Cypriote people have celebrations every spring for Orchis's return. The island is blessed every year with the colorful orchids. How about taking a closer look at the breathtaking beauty of orchids a bit more closer?
From white to purple, Anatolian Orchids (Orchis anatolica) is colorful, and the points on its leaves are the best parts that draw attention. From March to April, if you go to Lapta or Beşparmak mountains, Anatolian Orchid will welcome you with a huge ceremony. Also, in various places on the island, you will have a high chance of finding jester orchid (Orchis morio ssp syriaca), Don't forget to ask this cute little orchid where its name comes from.
When April comes, pink orchids blossom all around the island... When you look at their leaves closely, you'll notice a naked human form. That's why it is called as Naked Man Orchid by the locals altough its Latin name is Orchis italica. Cyprus orchid (Ophrys kotschyi, Cyprus Bee Orchid), on the other hand can be found in the pine forests. It only lives in Cyprus and was named after Herr Kotschy, an eminent 19th century Austrian botanist. If it is March, you can see it in meadows and under pine, cypress, and eucalyptus trees...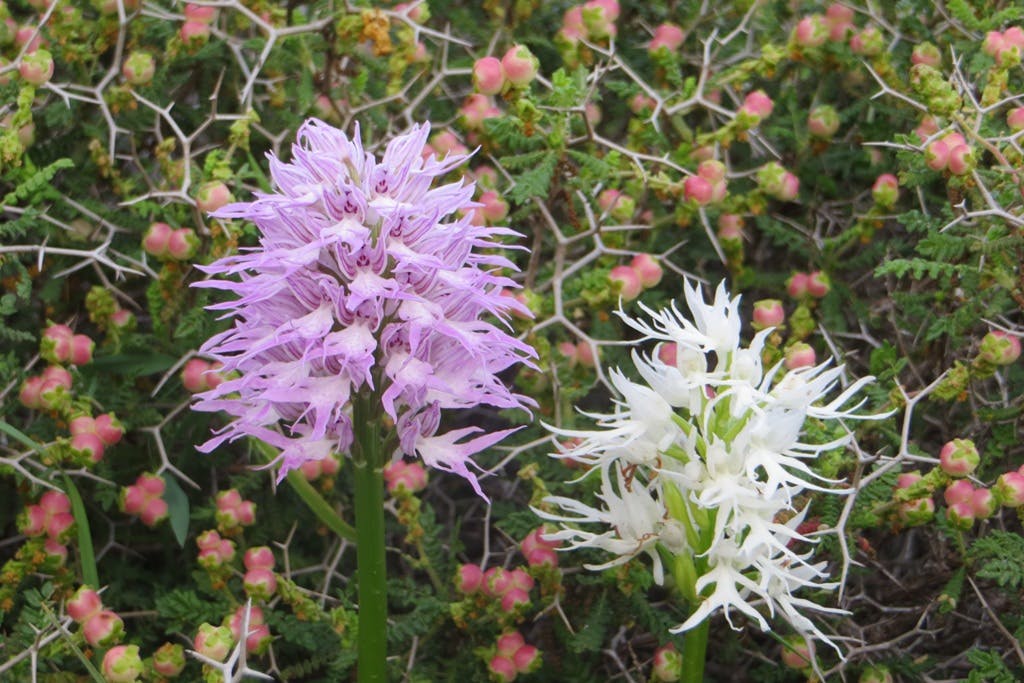 *Orchis italica
Nature's most beautiful celebration: Orchid Festival
Orchid, has been loved in every period of the history; it has been a hero in mythological stories and a cure to illnesses... Most importantly, the beautiful orchid played a leading role in one of the most special festivals in Noth Cyprus: Traditional Hisarköy Orchid Festival. Every year in the first week of March when orchids bloom, a festival starts which has the attraction of the Cypriotes. This festival is one of the many ways Cypriotes show their deep appreciation for nature.
The symbol of the fight against cancer: Orchid March
One of the best examples of showing the soul of Cyprus is the "Orchid March". This event was started 17 years ago by the Cancer Research Foundation and with it, the value of a healthy life is celebrated with the ancient symbol of health: Orchids. With the keen participation of locals who would like to bring attention to the fight with cancer, this beautiful march always turns into a celebration. As Kıbrıs Development family, we support and join the Orchid March every year and celebrate our peaceful culture engraved in our nature.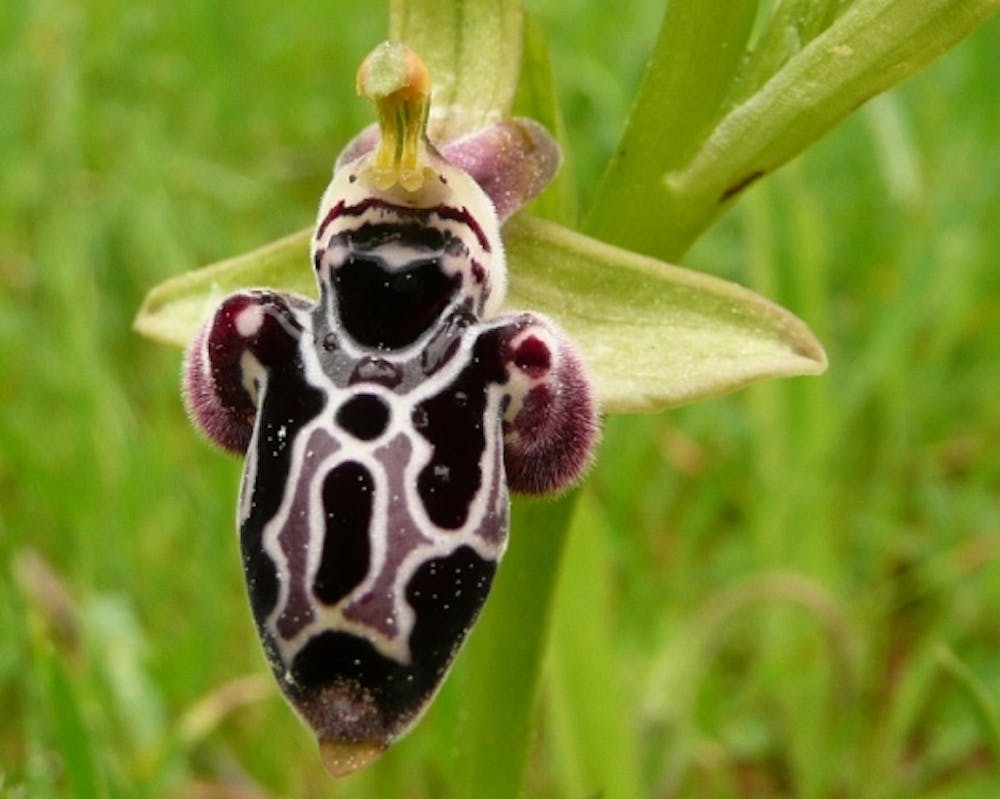 *Ophrys kotschyi
The guardian of the endemic plants: Saint Hilarion
As many of the endemic plants in North Cyprus lives on Saint Hilarion part of the island or close to it, this brings Saint Hilarion to mind. Saint Hilarion, who has immigrated from Jerusalem and spent his life praying in the monastery was thought to be the protector of the island. When you look at the hill and its plants, you will believe that St. Hilarion not only protected the island, but he blessed it as well.
Saint Hilarion Castle was built on a hill that had control over Kyrenia and has been protecting this city like an angel ever since. But to get to this castle, you need to climb a bit – to the top of Beşparmak mountains situated 700 meters above the sea level. In your impressive 480 steps journey to the castle, endemic plants of Cyprus will accompany you. When you finally get to the top, Delphinium casey (rattan palm of Casey) will welcome you with its huge trunk. Delphinium casey is the oldest guest of the ancient monastery and one of the rarest seen plants in Cyprus. Phlomis Cypria is waiting for you on the south side of the hill with its Gold-like shining leaves. Phlomis cypria looks like a bunch of friends having fun and its flowers blooming one after another can be distinguished even from far away thanks to their eye-catching color.
Are you ready to meet the most flowered and charming cabbage Brassica hilarionis (St. Hilarion Cabbage)? This unique plant has been living in Cyprus for more than a thousand years under Saint Hilarion's protection, and it may be the only one to witness the long history of warships appearing at the horizon, princesses, princes and guests sighing to its beauty...
Although it is not that easy to reach the castle, a unique award waits for you on each step you take. If you look carefully at your surroundings, you will see a little, white leafy flower watching you and it can only be found in Cyprus... Pimpinella anisum, which is called Pimpinella cypria in Latin, prefers to live under the shadows and with its white leaves, it can be distinguished it easily. As you approach the castle you are going to meet with another Cypriot who chooses to live inside cliffs: Arabis cypria. It has all the tones of warm colors from white to pink. And also, the Arabis cypria is the loyal spotter of the Saint Hilarion Castle. It has been looking to the horizon through the cliffs and for tens of thousands of years, it was the first one to see who is approaching the island.
Cyprus Tulip: The Abundance of Northern Cyprus
It is called Tulipa cypria scientifically, but the islanders call it Medoş Tulip. Every year between May and April, the Medoş Tulip shows itself out of the verdant meadows. Medoş Tulip only lives in Northern Cyprus and with its poetic red tones, it heralds the upcoming summer to us...
A festival named after Medoş Tulip is celebrated every year. The islanders love Medoş so much that the people visit these tulips in their natural habitat, take their photos, and celebrate the revival of nature with dances and songs.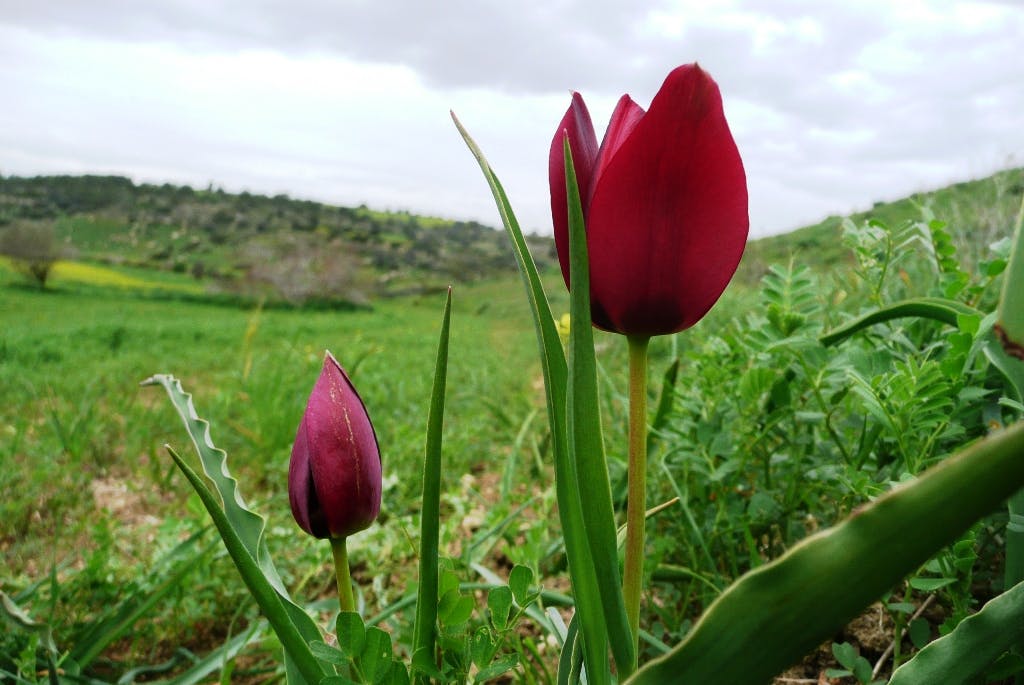 *Tulipa cypria
A living book: Endemic flora of Cyprus
We need to write a huge book to explain all the endemic plants that inhabit Northern Cyprus properly. If you want to read this living book yourself, Northern Cyprus awaits you with its unique flora. You can trek among the cypresses in the Beşparmak Mountains, swim among the sand lilies on the beach, and witness the miraculous moments when endemic orchids bloom.
The flora of Northern Cyprus is as unique and profound as its culture and history. Whether you take a walk in the Beşparmak Mountains or sunbathe on the beach, there is always an endemic story for the island of Aphrodite to tell you.
Source
Orchids of North Cyprus, Serkan İlseven, 2017
http://users.metu.edu.tr/birten/dogal_yasam.html